SWISS-CHALET LODGE
Typically Swiss
The quaint Swiss-Chalet, a wooden house built in the 17th century in a typical Swiss farmhouse style offers a special atmosphere. Low ceilings, a lot of wood and creaky beams are an experience which you otherwise find in the lofty heights of the mountains. There are enough car parking spaces available for free if you book direct with us as a small present. Otherwise you will pay CHF 5.- per night.
The both restaurants and the bar are located in the same building. There we serve as well the breakfast from 07.00 – 10.00 o'clock. Check-in & Check out will be in the Schloss-Hotel.


PRICE LIST SWISS-CHALET  

BOOK DIRECT - YOUR BENEFIT
---
Rooms Specifications
Free Wireless internet, safe, telephone, & flat tv.
Economy
• 6 rooms
• 2 single beds
• shower and toilet in the corridor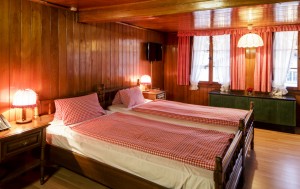 Standard
• 8 rooms
• 2 single beds
• shower and toilet in the room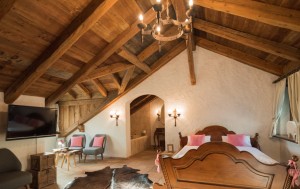 Stork room
The room is a great place to get cosy. The double bed has been handcrafted from wood to match the wood beams in the attic ceiling.